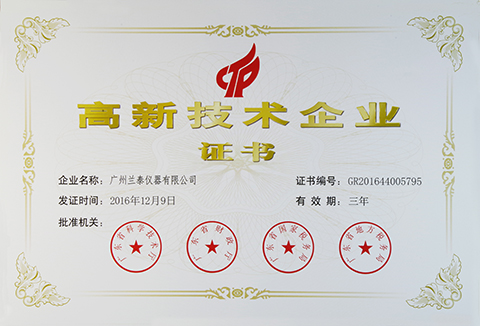 Guangzhou Landtek Instrument co., LTD. (hereinafter referred to as Landtek Instruments) in recent years. Increasing research efforts in technological upgrading. Each related technology research and development level in a leading international. International advanced position, the material basis for the industrial technology innovation to consolidate.And formed the independent intellectual property rights, on December 9, 2016 was awarded by Science and technology department of guangdong province , The departments of guangdong province , State tax bureau of guangdong province and Local taxation bureau of guangdong province "high-tech enterprise certificate" issued by the joint approval.
In our country, High-tech enterprises generally refers to the state issued the national key high-tech fields of support scope, High-tech enterprises generally refers to the state promulgated the "national key high-tech fields of support"within the scope of ongoing research and development and transformation of technical achievements,forming enterprise core independent intellectual property rights,and on this basis to carry out the business activities of resident enterprises. Is knowledge intensive and technology-intensive economic entity.High and new technology enterprise is the national key support enterprise with high growth,has a good potential economic benefits.High and new technology enterprise is to attract the local government, industry organizations to the enterprise to implement the important condition of preferential policies and financial support,Also more able to attract risk investment agencies and financial institutions. To promote enterprise into the industrialization rapidly.Through the recognition of hi-tech enterprises enterprises can increase the score in the process of listed
Landtek Instruments with the advantages of its own, constantly fused on the international advanced technology and experience to the product.Product technology development and the standard research and other international cooperation to develop in the depth and breadth, with high quality, cost-effective and high quality service to win the trust of customers, products are exported to Europe and the United States. Our company always maintain instrumentation industry rankings since the opening of dominant position.With the continuous development of business, our company's brand strength in the domestic and international status in the industry is increasingly rising,sound momentum of growth.For further carrying out the "Quality first, Customer foremost" business objective,Landtek Instrument continuously improve management, improve the quality of after-sales service.Do all it can to make customers feel kind, happy because of choose and buy products.Study and establish the principle of "sunset" requirements colleagues have a keen awareness, To the questions must issue a reply in one day. Landtek Instrument worked hard for the masses to provide quality products and sincere and professional services. Facing the rapid development of instrument and meter industry, We will continue to work hard, With the high quality engineering quality, perfect service system.To market-oriented, diversified business philosophy for the company to continue to develop, To create a more brilliant tomorrow!